Yeah, 3 consecutive pokemon posts, I know. But that's how one celebrates #Pokemon 20!
Here is the leaked video

THE HYPE IS REAL
It seems you would be in maps most of the time. the maps would show you and nearby pokemon and what looks to be gyms in the background. Once you find a wild pokemon, it appears on your camera as AR! we've been waiting for this since november. This leak seems to be 100% legit because Niantic's John Hank is talking in the background.
another thing seems that you will catch pokemon simply by swiping your finger across the screen to throw the Pokeball, kind of like how you throw things in office jerk. The one thing that is missing is your Pokemon. it seems like you catch Pokemon kind of like the old safari zone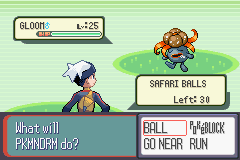 Another thing you can see after they catch Ivysaur (apparently with a master ball) you can see crystals. This seems to be like an in game currency. I'm fine with that, as long as you don't have to purchase it with real money like those filthy gems in clash of clans (which is a cool game by the way!)
I would still play the game anyway, which has been confirmed to be free to download for Android and IOS. The Release Date is speculated to be spring 2016.
Comments
comments